Bobby Tomlinson
Drums-Vocalist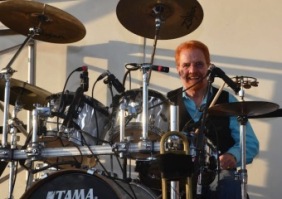 Bobby Tomlinson bought his first drum set after his family moved to Raleigh And he never put down the sticks after that. That's not too surprising. Bobby started paying attention to music as a kid in Goldsboro, North Carolina. The Clovers, The Spiders, Wynonna Harris, Billy Ward & The Dominoes were the artists that caught his ear. It would be the music that shaped his career.
He was ten years old when he joined the Williams Street Elementary School Band. Band Director, John B. Thompson taught him how to play the drums. He was even promoted to the high school band while he was still in the eighth grade. His family moved to Raleigh in 1955. He made music and friendships that would last a lifetime at Hugh Morson Jr. High.
A Needham Broughton High School graduate, Bobby was a member off the Symphonic Orchestra, the Circus Band & the Marching 100. He captained the Marching 100 squad his junior and senior years. While in high school, he formed a band called The Satellites, which evolved into The Embers in 1958. He's been there, keeping time, keeping things in order ever since.
Bobby credits his first band director, John B. Thompson and his mother and father (whom most of his friends knew as "Mr. & Mrs. T") among his major inspirations and strongest supporters.
He counts basketball and the Washington Redskins among his favorite diversions. By the way, when you see the Embers bus on the road, remember Bobby's not too fond of traffic and quick changing signal lights.