Jeff Grimes
Guitar-Sax-Vocalist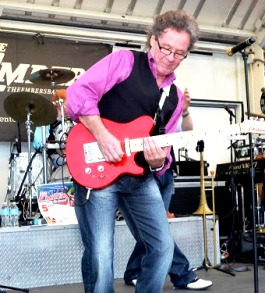 Jeffrey Miles Grimes has been playing professionally since high school. In fact, it's all he's ever done. Back in those days (early 70s), Jeff "sat-in" countless times with The Embers but he was usually playing saxophone. As most of the Carolina's music trivia buffs know, during the 70s the Embers horn section consisted of 2 trumpet players….Johnny and Buck. Consequently, there was always room for a sax player. It was during these years that Jeff began a long friendship and association with Jackie, Bobby, and the Embers.
It was about 1973 that Jeff began "testing the waters" in New York City. By 1975, Jeff found himself working as a guitarist for Atlantic Records and recording or touring with The Jimmy Castor Bunch, Ben E. King, Sister Sledge, The Spinners, and others. But, as is so often the case with young talented musicians, he was unable to parlay this front-loaded success into a career in "The Big Time". By 1978, Jeff was back in Nahunta, NC and forced to "re-evaluate" career choices that just weren't working. He spent a couple of years trying to record original music and playing in a rock band named "10th Avenue" but ultimately decided to move again……this time to Florida .
The next 15 years were spent primarily in the Miami area where Jeff played house band jobs and worked in recording studios. The work was abundant and the musicians were great……but it wasn't North Carolina.
In 1995 the phone rang – it was Bobby Tomlinson of The Embers. Jeff joined The Embers full time in '95. Since then he has been playing with The Embers, playing jazz every chance he gets, and operating a state of the art recording studio in Goldsboro, NC.